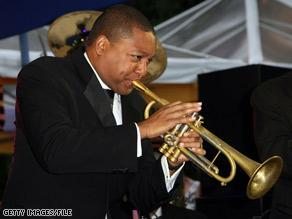 I never thought I'd be giving a shout out to CNN from this blog, but the article they wrote about Wynton Marsalis and his musical ministry was exceptional.
The story begins "Jazz musician Wynton Marsalis knows how important education is for youth, but what feeds their minds and souls, he says, often lies beyond traditional classroom walls."  Amen!
Growing up in New York City, I had always taken the City's icons as givens, as if Tiffany's, or The Metropolitan Opera, or the Empire State Building had always been a part of the city, because they were all part of the city by the time I became aware of them.  When Wynton Marsalis co-founded Jazz at Lincoln Center, he changed the architectural, musical, and cultural landscape of the city, thereby also changing the fixed points of reference that I had presumed were immutable since I was a boy.  Something really new in New York?  Amazing!
The article continues with this amazing quote:
Jazz helps younger kids, especially, to connect with their innermost feelings and learn that [there's] nothing wrong with being real.
It should be no surprise that these bold ideas–a venue for music to thrive, and a philosophy of integrity and authenticity–inspired me to create Manifold Recording and The Miraverse.  But it is a surprise, and a welcome one, to see these sentiments prominently reported on CNN.  Maybe there is hope for the mainstream after all!